ENGRAVED RIFLE STOCKS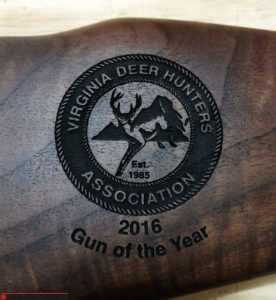 We love the look and feel of engraved wood, especially when it's a gun! We are not only advocates of firearms, we understand that they were the backbone behind building this strong nation. "A well regulated Militia, being necessary to the security of a free State, the right of the people to keep and bear Arms, shall not be infringed." ENGRAVED RIFLE STOCKS – You have the right to customize your stock, rifle or shotgun to any way you prefer. What do you want on it? We'll make it happen! Is this your kids first shotgun? Is he or she ready to learn the respect, values and responsibility associated with owning and operating a firearm? Why not make it special? ENGRAVED RIFLE STOCKS well help you give your loved one not only a physical manifestation of your love, but also make it memorable.
Custom Engraved Rifles stocks offer just that. We laser etch way more than just wood, we can laser etch and engrave into stainless steel and aluminum just as easily. If you need a firearm to be customized, look no further. ENGRAVED RIFLE STOCKS are one of our many specialties. We engrave everything from heartfelt messages to Combat Units, Masonic Logos and detailed custom graphics. If you want your rifle stock or shotgun stock custom engraved, we're the "go-to" guys in the industry. ENGRAVED RIFLE STOCKS are something that we have certainly grown accustomed to. The feel of the engraved wood and knowing that it is permanent is something that seems to bode well with Engraved RIFLE STOCKS. We can make the gift that you plan to give extremely memorable and heartfelt.
Do you have a project or want to get something custom engraved?
ENGRAVED RIFLE STOCKS!